YOU ARE
BRING YOUR IMAGINATION AND LET YOUR CREATIVITY FLOW
the levka ori organization also provides a
field-sensory-meter
PROGRAM
each day starts approximately at 10 a.m. and ends about 5 or 6 p.m.
friday 23.08
introduction, visit and comparison of an ancient site (elyros) and a contemporary site (magnesia) in the same area
saturday 24.08
optional workshops on the magnesia site or in the vicinity
sunday 25.08
continuing the workshop individually or in common on the magnesia site and vicinity
monday 26.08
optional workshops on the magnesia site or in the vicinity
tuesday 27.08
optional workshops on the sites or in the vicinity
wednesday 28.08
finale and lunch at anidri, with in afternoon walk trough the pretty anidri ravine + swimming at the end of the ravine
HOME BASE: PALEOCHORA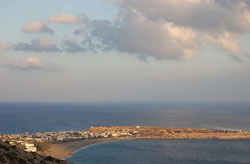 paleochora : that little harbour with a sandy and a pebble beach is a good place to stay, with a number of hotels and 'rooms to let'
MEETING POINT: 'Jetee Cocktail Bar'
road to kandoura, on the western beach of paleochora, next to the hotels villa europa, candid, marise and elman and opposite of the 'zyphos' café.
EXPENSES
participants
make their own travel and accommodation arrangements
, according to their requirements. everyone takes his own responsibility at all levels. registration is fundamentally free, we ask a deposit of 50 euro against fake registrations. these 50 euro will be refunded the first day of the encounter. in practice, the creative projects at the site are normally low-cost and entail only a modest outlay
GETTING THERE
the best is to take a flight or a charter to airport
chania
, 75 km to paleochora (heraklion airport is more than 200 km to paleochora).
to get from chania to paleochora, you can
rent a car
or take the
bus
from chania town center (15min by taxi from airport)
RENTAL CARS
all types of cars can be rented at chania airport or at paleochora.
participants can arrange to
share rented cars
.
ACCOMMODATION
in paleochora there are some hotels and plenty of rooms for rent. e.g.:
- hotel near the sandy beach:
elman
cat B
- hotel near the sandy beach:
villa europa
(meeting point) cat C
- hotel in the centre of the village:
aris
cat C
- there are many more hotels in cat C
there is a camping site on the northeast side of the village.
there are plenty of small restaurants: life is cheap in this region.
more hotels in paleochora...
LANGUAGES
will be international with the voluntary assistance of friendly translators among the participants.
MORE?
check
our FAQ
INTERESTED?
registration is mandatory
limit of participants: 15
end of registrations: july 15, 2013
register online here